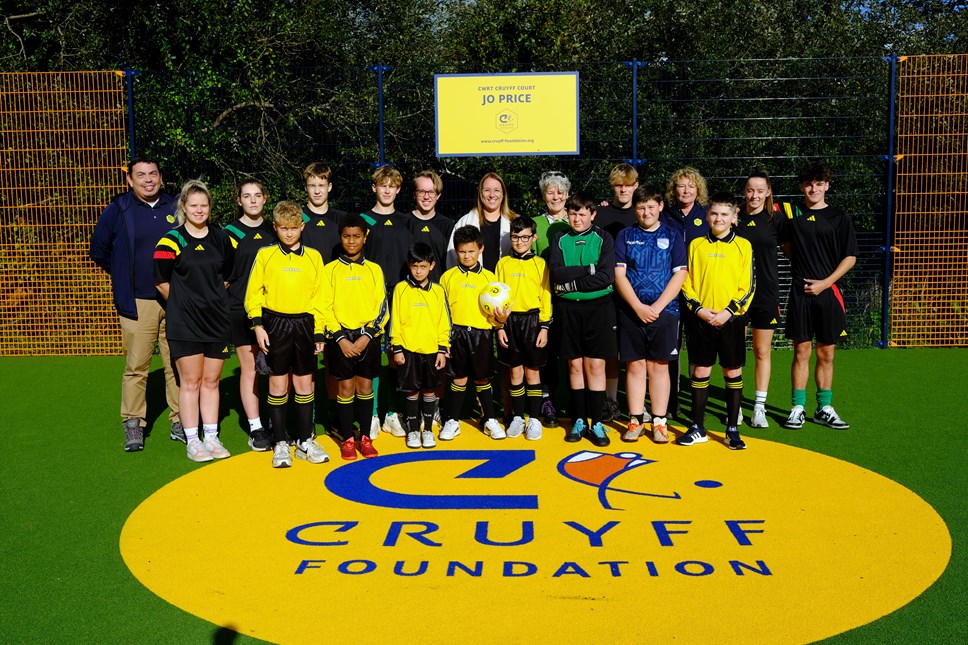 New facility opened at Haverfordwest youth centre thanks to football legend's sport foundation
A brand new 'Cruyff Court' has been opened at the Garth Youth and Community Project, known locally as The Hive, by former international football and rugby icon Jo Price.
Local hero Jo not only opened the new facility on October 14th but was also surprised with the honour of the court being named after her.
This brand new facility has been built in partnership with the Cruyff Foundation Pembrokeshire, Reech Sports and Play, Pembrokeshire County Council, Sport Pembrokeshire, Sport Wales, a £10,000 contribution from Valero, the Police and Crime Commissioner, Street Games with the help of funds raised by players of the People's Postcode Lottery.
Jo Price said: "It is a real honour to have been named an ambassador for the Cruyff Foundation - I feel so proud to be able to support young people and communities across Pembrokeshire to access an incredible facility that allows them to express themselves, develop and grow through sport.
"Having played sport at all levels from the age of six, I can appreciate how a facility like this can positively impact people's lives. It is a real privilege to be involved in such a meaningful project and an organisation that promotes such wonderful values.
"Thank you to Anji Tinley at the Hive who has welcomed this project with open arms and continues to deliver for young people and the community."
Johan Cruyff, football icon and founder of the Cruyff Foundation, believed in the endless power of sport and its influence on the development of children and youngsters. For this reason, the Cruyff Foundation is committed to creating space for children to develop themselves physically, mentally and socially through sport.
Cruyff Court Jo Price is situated at The Hive, which arranges play activities, social activities and food for the children and youngsters from the local housing estate. The multifunctional court has a football field, basketball hoops, a climbing wall and cricket nets.
Local Member and Garth Youth and Community (The Hive) Project Manager Cllr Anji Tinley, said: "The new Jo Price Court is a fantastic addition for both young people and the whole community to enjoy and I thank everyone who has been involved in bringing this brilliant facility to The Hive.
"It is absolutely fitting that the court carries Jo's name as she is a remarkable role model and a prime example of what can be achieved when young people's skills and talents are nurtured and supported."
Geraint Richards of the Cruyff Foundation added: "We are delighted that a new safe space to play sports has been opened. This Cruyff Court will bring a fabulous new facility to the area and will be a safe place for children from the area as well as pupils from the local schools and SEND schools to grow, develop and have fun."
The opening of this facility is part of the Cruyff Foundation's plans to expand the institution's presence in the United Kingdom by doubling the number of Cruyff Courts from 22 to 40 by the end of this year
All projects are made possible following an award from the Postcode Active Trust, which has seen over £3m raised by players of the People's Postcode Lottery to support the work of the Cruyff Foundation in the United Kingdom.