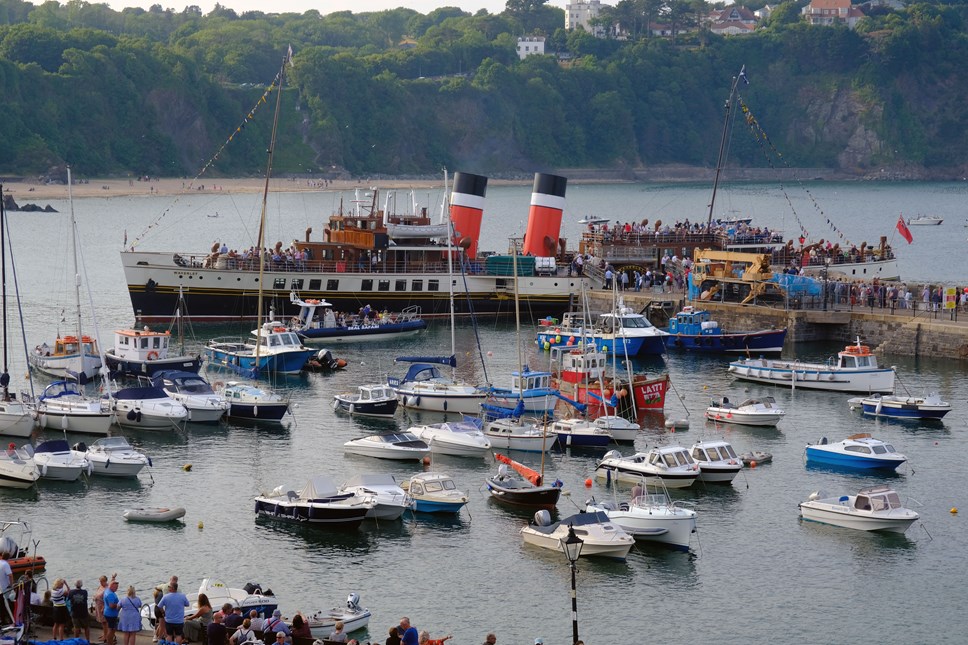 Fantastic welcome for The Waverley
Thousands of people welcomed historic paddle steamer The Waverley into Tenby and Milford Haven this weekend.
Tenby's car parks were at capacity on Saturday and vantage points above the Harbour were bustling with people eager to catch a glimpse of the impressive vessel.
A total of around 1,000 passengers landed or boarded at Tenby to take a trip around the south Pembrokeshire coastline, with similar voyages off Milford Haven on Sunday also held.
The Waverley, built in 1947, is the last seagoing paddle steamer in the world and crowds gathered to welcome the vessel back to Tenby after 30 years.
Pembrokeshire County Council officers worked hard behind the scenes to ensure the visit was a success and were involved in ensuring the running of the Pembrokeshire Street Food Festival at South Beach car park went to plan.
Cabinet Member for Residents' Services Cllr Rhys Sinnett said: "Thank you to all those Council staff – from the Harbour officers to the parking and cleansing teams - that ensure this event, and the many others held across the county, was a success.
"I'm sure that those witnessing The Waverley's arrival and those lucky enough to be on board had a great experience."