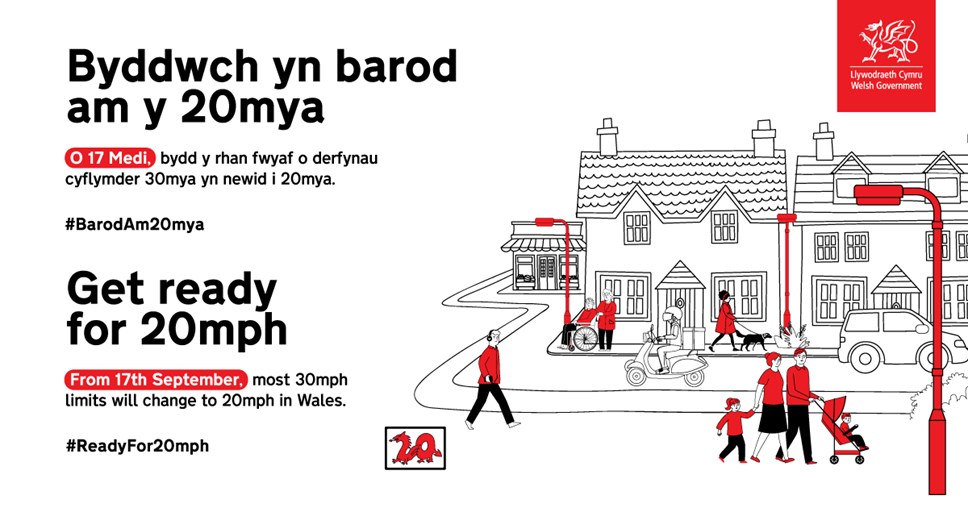 Pembrokeshire prepares for the new 20mph default speed limit rollout
Ahead of Welsh Government's 20mph rollout on Sunday September 17th, you may have noticed work taking place to modify speed limit signs as you travel around Pembrokeshire.
Many 30mph speed limits will be reduced to 20mph, in accordance with new legislation.
Welsh Government is making this change to help save lives and protect our communities. The aim is to:
reduce the number of collisions and severe injuries (and reduce the impact on the NHS to treat the people who are injured)
encourage more people to walk and cycle in our communities
help to improve our health and wellbeing
make our streets safer
safeguard the environment for future generations
Cllr Rhys Sinnett, Cabinet Member for Residents' Services, said Pembrokeshire County Council is working hard to comply with the legislation.
"Preparations are being made to install new 20mph signs in many locations across the county," he said.
"The new signs will replace most - although not all - of the current 30mph speed limit signs.
"However, a small number of 30mph zones have been classified as 'exceptions' and these will not change.
"If you're a motorist, please be vigilant and look out for the changes from Sunday September 17th when the legislation comes into effect.
Cllr Sinnett added: "All the work associated with these changes is being funded by Welsh Government."
For more information, please see:
https://www.gov.wales/introducing-20mph-speed-limits-frequently-asked-questions
https://www.pembrokeshire.gov.uk/parking-roads-and-transport/20mph-new-legislation-in-pembrokeshire-and-wales