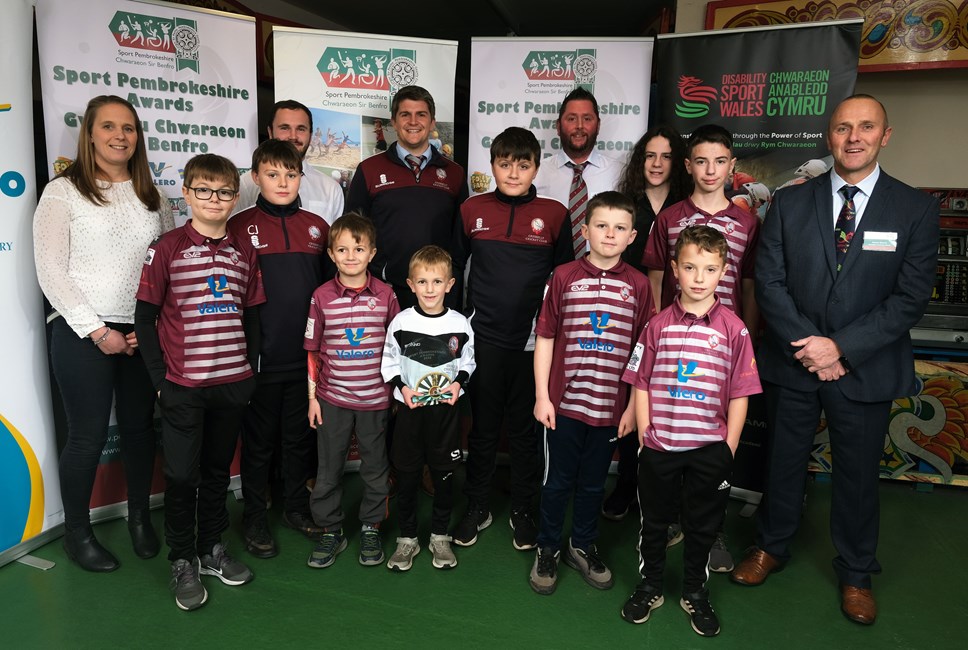 Record nominations received for Sport Pembrokeshire Awards
A record number of nominations have been received for the 2023 Sport Pembrokeshire Awards.
A total of 296 nominations have been received in 13 categories for individuals and teams involved in a variety of different sports.
The three finalists in each category will be announced in the Western Telegraph on 15th November.
The overall winners will be unveiled at a gala ceremony at Folly Farm on 24th November, organised by Sport Pembrokeshire.
The awards are sponsored by Valero, the Western Telegraph, Folly Farm, and Pure West Radio.
Cllr Rhys Sinnett, Cabinet Member for Residents' Services, said: "It's fantastic that we have received a record number of nominations for the Sport Pembrokeshire Awards.
"It shows that sports and the Sports Awards are going from strength to strength in our County and people want to take the opportunity to acknowledge the hard work and achievements of our local sportspeople, coaches and volunteers."
The nominations are as follows:
(some individuals/teams received more than one nomination)
Girls U16's
Sophie Howell (Swimming)
Jemma Nand-Lal (Golf)
Elisa Tyrell (Gymnastics)
Nina Marsh (Sailing)
Katie David (Surfing)
Chanel Griffiths (Dance)
Catrin Owens (Windsurfing)
Ava Davies (Gymnastics)
Maggi Clewitt (Gymnastics)
Matti Davies (Horse Riding)
Bronwyn Clissold (Swimming)
Imi Scourfield (Dance)
Grace Morris (Weightlifting)
Chloe John-Driscoll (Shooting)
Josie Hawke (Surfing)
Boys U16's
Kyle Gammer (Parkour)
Kieran George (Swimming)
Reuben Lerwill (Gymnastics)
Jayden Crawford (Football)
Finn Macare (Hockey)
Ramon Siso (Football)
Finley Bruce (Running)
Macs Adams (Football)
Tomos Nicholas (Rugby, Football, Cricket)
Carter Heywood (Football)
Ned Rees-Wigmore (Hockey)
Sean Bolger (Boxing)
Club of the Year
Windswept Watersports
Haverfordweat Badminton Club
South Pembs Sharks Under 14's
Pembrokeshire Vikings
Pembrokeshire Parkour Club
FF Dancers
Crossfit Pembrokeshire
Haverfordwest Gymnastics Club
Vibe School of Dance
Milford Waterfront Parkrun
Pembrokeshire Tri Club
Broad Haven Buccaneers Surf Lifesaving Club
Neyland Yacht Club
Haverfordwest Gymnastics Club
Blue Horizons Surf Club
Neyland Cricket Club
Pembroke Cricket Club
Haverfordwest Tennis Cub
Tenby Dolphins Swimming Club
Tavernspite Short Mat Bowls Club
Fishguard Thunderbolts
Hook Cricket Club
Junior Disability Award
Lewis Crawford (Boccia)
Ella Meacham (Paddle Ability)
Saskia Webb (Swimming)
Ioan Williams (Boccia)
Young Volunteer of the Year
Ellie Phillips (Swimming)
Leon Jarvis (Football)
YHT Ambassadors
Keira Edwards (Sailing)
Carys Ribbon (HHVCS)
Lukas Tyrrell (Sailing)
Shannon Macarney (Disability Sport)
Elizabeth Clissold (Swimming)
Junior Team
South Pembs Sharks Under 14's (Rugby)
Pembs Schools County Football U14's
Johnston Tigers u8's mini football
Tenby Primary School Football Team
Kilgetty Cricket Club u13's & u15's
Haverfordwest Cricket Club U11's
Fishguard Netball Club Under 12's
Ysgol Penrhyn Dewi Tennis Team
Neyland Pink Pirates U13's
Unsung Hero
Andrew Richards (Rowing)
Ross Hardy (Cricket)
Jon Phillips (Parkrun Milford)
Luke Howell (Sailing)
Teresa James (Football)
Kyle Davies (Cricket, Football, Rugby)
Dave Astins (Triathlon)
Sean Hannon (Cricket)
Emyr Hughes (Ysgol Bro Gwaun)
Richard Arthur (Cricket)
Craig, Max, Toby &Tipper (Rugby)
Sam Rossiter (Cricket)
Piers Beckett (Sailing)
Dave Petrie (Cricket)
Karen Lewis (Parkrun)
Senior Team
Hook Black Diamonds T20 Cricket team
East Williamston Short Mat Bowls Club
Llangwm RFC Youth
Fishguard Thunderbolts
Milford Haven Ladies Hockey Club
Haverfordwest County AFC
Haverfordwest Ladies Rugby Team
Cresselly Ladies Cricket Team
Jonathan Gladstone & Andrew Hudson (Short Mat Bowls)
Male Achievement
Bleddyn Gibbs (Weightlifting)
Simon Richards (Cricket)
Jack Paul Newman (Parkour)
Liam Ashley Davies (Parkour)
Jeremy Cross (Tennis)
Ceri Stone (Cycling)
Moritz Neumann (Crossfit)
Jonathan Gladstone (Short Mat Bowls)
Rhys Llewellyn (Athletics)
Mickey Beckett (Sailing)
Female Achievement
Sophie Butland (Dance)
Sanna Duthie (Running)
Nel Allen (Golf)
Imogen Scourfield (Football & Dance)
Gracie Griffiths (Race Walking)
Makala Jones (Swimming)
Seren Thorne (Target Shooting)
Ava Midgeley (Cricket)
Kate Dickinson (Bowls)
Disability Sport Award
Bleddyn Gibbs (Weightlifting)
Jack Surtees (Football)
Jules King (Crossfit)
Nia Morgan (Paddle Ability)
Michael Jenkins (Discus)
Club Organiser
Rachel Grieve (Rugby)
Llangwm RFC Youth
Jon & Debbie Phllips (Parkrun Milford)
Kelly Griffiths (Athletics)
Jen Harries (Athletics)
Brian Millard (Disability Sport)
Nadine Tyrell (Gymnastics)
Huw Jones (Golf)
Daisy Griffiths (Gymnastics)
Stefan Jenkins (Cricket)
Jack Kinnersley (Rugby)
Fraser Watson (Cricket)
Jamie Phelps (Cricket)
Coach of the Year
Chris McEwen (Boxing)
Georgia Picton (Dance)
Sam Feeneck (Crossfit)
Joseph Lewis (Football)
Simon Thomas (Football)
Hannah Davey (Dance)
Jamie Barrellie (Rugby)
Mike Jarvis (Football)
Lewis Davies
Joel Codd (Football)
Tyler James (Parkour)
Michael Newman (Parkour)
Brad (Football)
Colin Williams (Cricket)
Luke Hayward (Football)
Andrew Barcoe (Football)
Wayne Griffiths (Atheltics)
Nathan Greene
Barry Parsons & Gareth Scourfield (Rugby)
Simon Roach (Weightlifting)
Angiolina Martib (Rugby)
Phil Sadler (Surfing)
Daisy Griffiths (Gymnastics)
Kyle Davies (Cricket, Rugby, Football)
Nadine Tyrell (Gymnastics)
Lowri Jones (Dance)
Lauren Smith (Gymnastics)
Chris Barker (Squash)
Dayfdd Bowen (Rugby)
Ross Hardy (Cricket)
Trevor Badham & Colin Williams (Cricket)
Mark James (Rugby)
Tom Richards (Tennis)
Rhian Homer & Emily O'Connor (Netball)
Stuart Tyrie (Ju Jitsu)
Bruce Evans (Tennis)
Notes to editors
Caption:
Cresselly Cricket Club, last year's winner of Club of the Year.