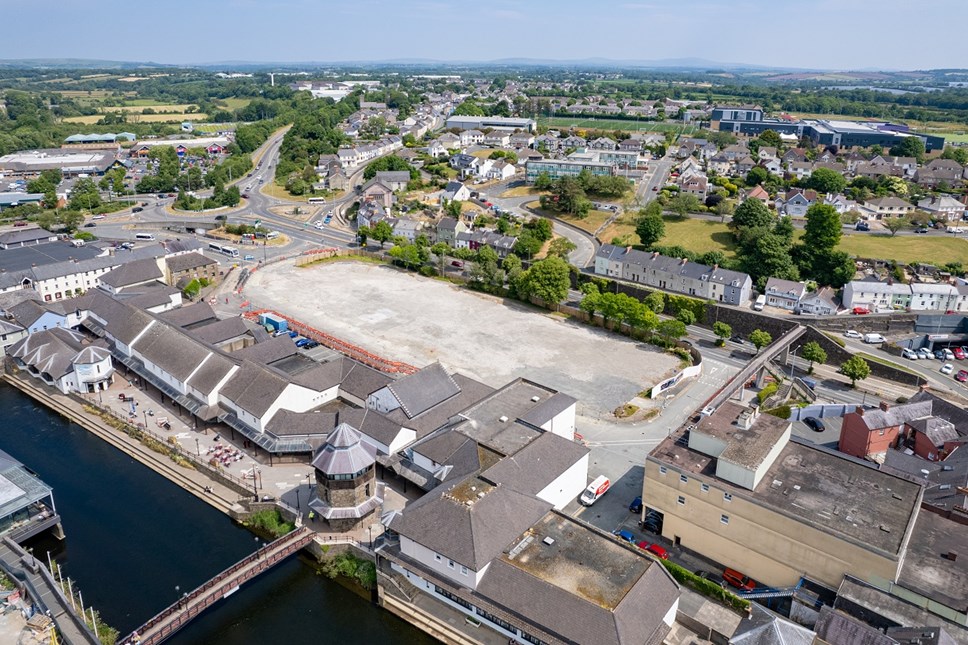 Update on Haverfordwest Public Transport Interchange
Pembrokeshire County Council's Cabinet has underlined its commitment to creating a transformational Public Transport Interchange for the County Town of Haverfordwest.
Cabinet was told on Monday 3rd July that all funding has been secured for the development which forms part of the Swansea Bay and West Wales Metro project.
The interchange, including upgraded multi-storey car park, EV charge points, integrated bus station and new public toilets, links to the wider ongoing regeneration of Haverfordwest.
This includes the redevelopment of the former Ocky White department store at Western Quayside and public areas and the significant investment planned for Haverfordwest Castle.
Cabinet Members agreed to retender the interchange project via a two stage tender process designed to be more attractive to prospective contractors.
Retendering and issuing the contract will add about six months to the life of the project.
In the meantime the Council will open a temporary car park on the site of the former multi-storey car park (see below).
Council Deputy Leader and Cabinet Member for Place, the Region & Climate Change, Cllr Paul Miller, said: "I am delighted that all funding is in place for this important project.
"The interchange is a crucial piece in the overall regeneration jigsaw for Haverfordwest.
"We want to create a much more welcoming building with upgraded facilities and surroundings for people to walk, cycle, ride a bus or drive to and easily access the town or onward travel options.
"I look forward to the new tender exercise going live and this project moving forward and making a real difference."
Temporary car park
Pembrokeshire County Council will open a temporary car park on the site of the demolished multi-storey car park in Haverfordwest from Monday, 10th July.
The temporary car park entrance and exit will be from Cartlett Road as previously for the former multi-storey.
Please note this will be a cashless car park.
Payment will be by the PayByPhone app only.
Drivers are encouraged to download the PayByPhone app which is available for Android and Apple devices in advance.
See PayByPhone information on the Council website.
Regular users will also be able to purchase a pre-paid permit by contacting parking@pembrokeshire.gov.uk with application forms available on the parking permits page
Cllr Rhys Sinnett, Cabinet Member for Residents' Services, said: "Opening a temporary car park on the site is the right decision and a common sense approach while work continues to secure a contractor for the main interchange project.
"I emphasise that this is a temporary arrangement and we are committed to the Transport Interchange and the many benefits it will bring to improved public transport and connectivity in the County Town.
"The temporary car park will provide some extra capacity for summer and in run up to the Christmas period and we would encourage residents and visitors to support the town and its traders."